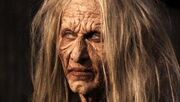 Haggis is the witch from the pumpkinhead movie series.
In the pumpkinhead comics made by DC:comics she dies and is replaced by an apprentice which you never get to see in action cause they stopped making the comics right in the middle of the comic book series with a cliff hanger and hopes of a winged pumpkinhead which never came to fruition.
Ad blocker interference detected!
Wikia is a free-to-use site that makes money from advertising. We have a modified experience for viewers using ad blockers

Wikia is not accessible if you've made further modifications. Remove the custom ad blocker rule(s) and the page will load as expected.