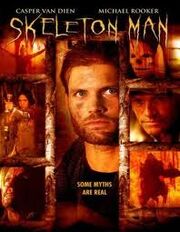 The scientist Charles and Marissa receive some objects and a skull from an ancient Indian cemetery, and while cleaning a vase, they are attacked and murdered by a mysterious being, the Skeleton Man. Then, a military squad commanded by Captain Leary seeks out two groups of four soldiers each that vanished in the jungle. They face the Skeleton Man, shooting him while he kills each soldier. Then the Skeleton Man goes to a power plant, and Captain Leary explodes the facility destroying the supernatural being&nbsp
Ad blocker interference detected!
Wikia is a free-to-use site that makes money from advertising. We have a modified experience for viewers using ad blockers

Wikia is not accessible if you've made further modifications. Remove the custom ad blocker rule(s) and the page will load as expected.