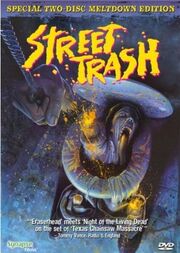 When a liquor store owner finds a case of "Viper" in his cellar, he decides to sell it to the local hobos at one dollar a bottle, unaware of its true properties. The drinks causes its consumers to melt, very messily. Two homeless lads find themselves up against the effects of the toxic brew, as well as going head to head with "Bronson" a Vietnam vet with sociopathic tendencies, and the owner of the junkyard they live in&nbsp
Ad blocker interference detected!
Wikia is a free-to-use site that makes money from advertising. We have a modified experience for viewers using ad blockers

Wikia is not accessible if you've made further modifications. Remove the custom ad blocker rule(s) and the page will load as expected.